Description
Purchase 5 Personalization sessions, and get 1 FREE!!
No need to pick all of your titles now, but if you know them, enter the titles in the comments section.
Contact Mistress for any questions:  Mistress@DeepSurrender.com
Companion Loop:
I can't figure out how to remove that selection… so….. PLEASE DO NOT SELECT COMPANION LOOP.
If you do, you will only be able to choose ONE title with a companion loop.  Please contact me if you're interested in companion loops for your 6 personalizations.
12 FOR THE PRICE OF 10
I'm ok if you choose Qty 2 when you check out, so that you'll have 12 sessions for the price of 10.
Turnaround Time
If you are choosing current title, the turnaround will be about 2 weeks
Feel free to save some of your pre-purchased personalizations for future titles.  I will keep a special folder, just for you, to keep track of your purchases
This is how personalization works. READ CAREFULLY:
Using the drop down box, select Personalize A Full Length MP3, provide your name in "your info" comment box.
Turn-around time: approximately 1 week, but I will e-mail you when your order comes through to give you a time estimate.
VERY IMPORTANT! If you have not heard from me within 24 hrs, PLEASE CHECK YOUR SPAM FOLDER!
Personalization: I will re-record the secondary voice track of the file by inserting your name so that it has a personal feel. You'll love hearing me command you by name!
Companion Loop – I will take the secondary track from your personalization, isolate it, and create a loop. PLEASE NOTE: The main track of the file is muted. This is purely your personalized track all on it's own, with multiple layers.
There is no credit nor refund if you have previously purchased the public version of the file. Sorry.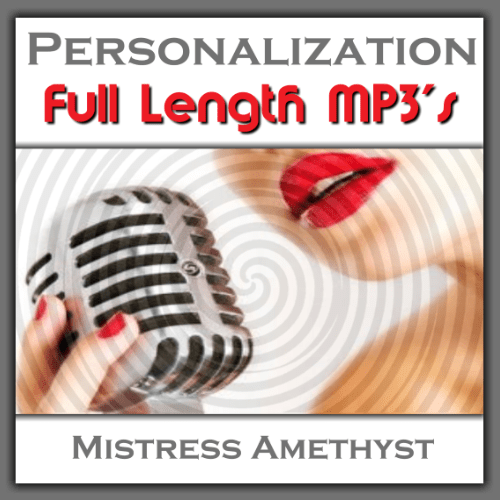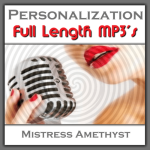 [personalize_form]